Tax Presets
In this article
Collecting sales tax from your customers can be daunting especially when you have to ship out of state. It gets more complex when each state has a different tax implementation. On qualifying plans, you can take advantage of our Automatic Sales Tax calculation feature. In plans or regions where Automatic Sales Tax calculation is not available, you can configure Tax Presets to speed up the operation.
In this article, we will create a Tax Preset for Lafayette, Indiana (7%) and use it in an order.
Watch the Video Demo for an overview.
Setting a Tax Preset
Navigate to the https://app.yoprint.com/setting/overview
Click on Tax Presets on the Settings sidebar.
Click on + Tax Presets to create a new Tax Preset.


Tip: You can set this Tax Preset as your default for all future orders.
Using a Tax Preset
To use the Tax Preset, first, you have to create a Sales Order draft.
Click the + icon under Shipments on the sidebar.
When you have selected the location to ship your order, select the Tax Preset under the Tax section. In this case, we will be selecting the Lafayette Indiana Sales Tax.


Pro Tip: You can also specify the tax percentage directly without having to select a preset. In this case, if you are shipping to Virginia, you can simply type 5.3 on the Tax input.
Override Tax Percentage for a Single Line Item
YoPrint allows you to override tax percentage per line item basis. Let's say one line item is tax-exempt, you can click the edit icon, and change the tax percentage to zero.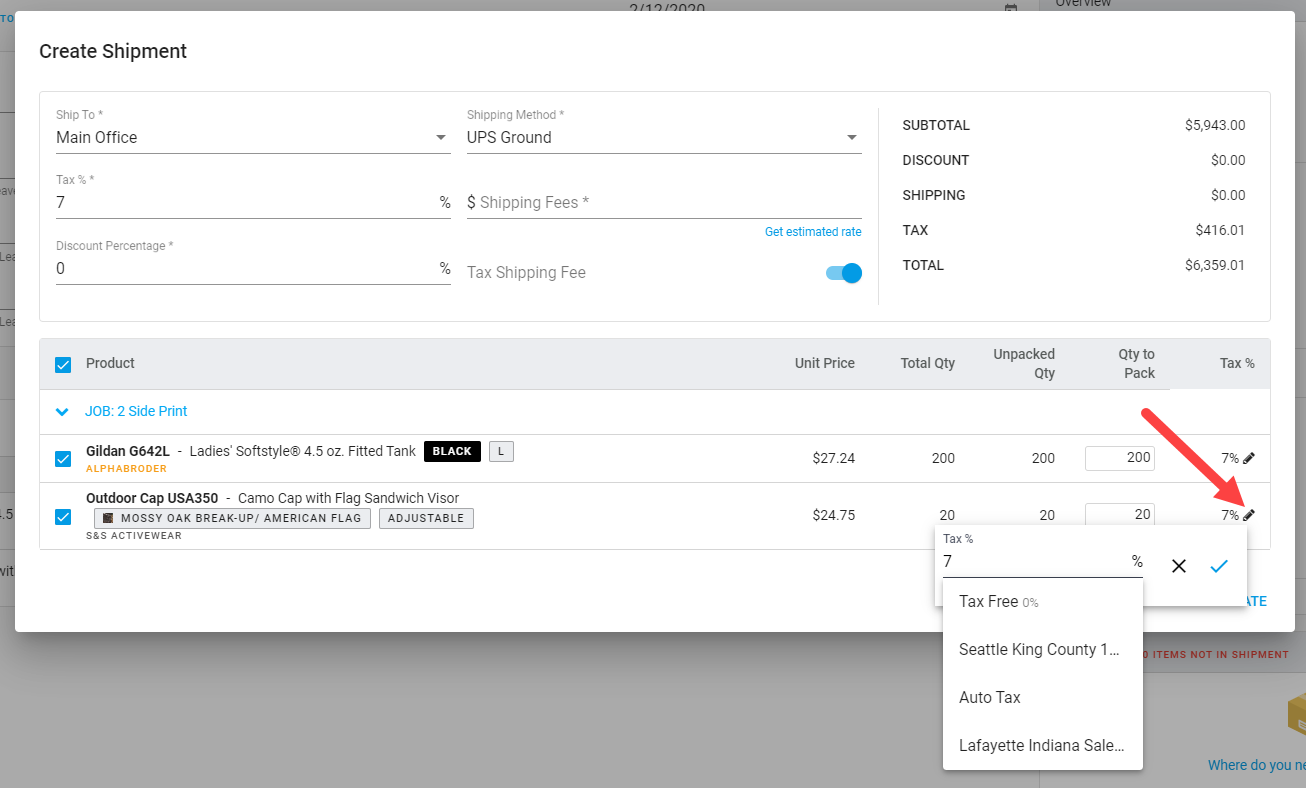 Tax-Exempted Customers
If your customers qualify for tax exemption, you can record it in their profile. This will ensure any future Quotes / Sales Order automatically sets the tax for the order to be zero.
When you have created your Sales Order, navigate to view the customer page.

Click on Edit to update the customer as Tax Exempted.